Brand Name: Tevise Elegant
Project Type: Automatic Watch
Sex: Male
Features: time, calendar, week, 3ATM waterproof, shockproof
Style: fashion casual, sports, military, business, luxury
Waterproof depth: 3Bar (supports cold water shower and swimming, do not operate the watch under water)
Case shape: round shape
Material: Alloy +
Buckle type: pin buckle
Dial material: scratch-resistant mineral glass
Belt material type: stainless steel

Unique: Mini window display date, let you know the date clearly, the small dial of the day, you can know that today is the day of the week
Specification:
Dial diameter: 44MM
Dial thickness: 12MM
Watch length: 245MM
Strap width: 19MM
Product weight: 96g
Package Included:
1 x Tevise Elegant watch
1 x gift box
1 x warranty card ★ Gifts: Sports watches are a great gift, birthday, anniversary, friends, loved ones, graduation gifts, Valentine's Day gifts, or as a gift for business and gatherings.

Tevise Formal Watches for Men for the Perfect Look
Men always have a fascination for watches and for them it is one of the most important fashion accessories. Formal watches for men are a combination of accurate time-telling and a sleek design which makes it a perfect accessory for professionals. Add flair to your style by matching these watches with formal party wear or your business attire. A broad range of formal timepieces suitable for every occasion or event is available to choose from. Tevise Formal watches for men are designed to exude class and functionality. They are an analog automatic mechanical watch that provides precise timekeeping.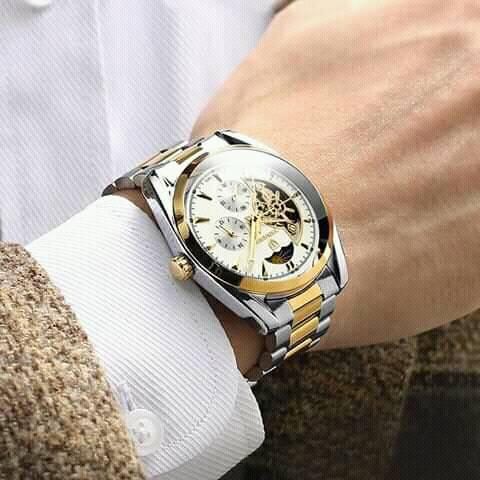 Tevise watches are convenient and practical to use every day. The watch has a big display screen made of mineral glass mirror and is scratch and heat resistant. The back case of the watch is corrosion resistant and it has a Tevise logo imprint. It is a chronograph watch that displays the correct time and date. It has a beautiful luminous pointer that shows the time clearly even in darkness. Tevise watches come in a shiny diamond stainless steel buckle design that is easily adjustable to your wrist for the perfect fit. They are waterproof watches that can withstand splashes except swimming.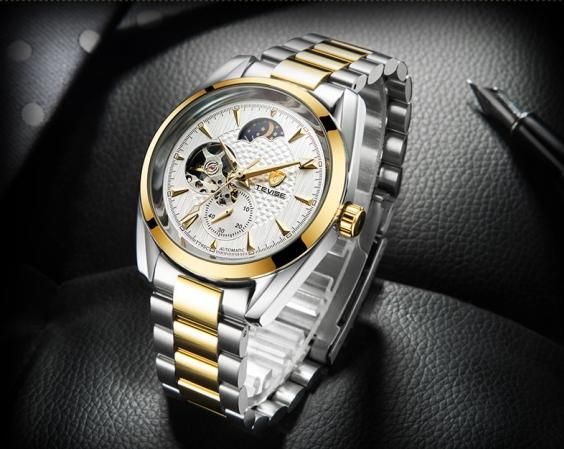 With such great features and a stylish design, Tevise formal watches for men are an attractive gift choice perfect for any occasion. Gift your loved ones a beautiful Tevise formal watch on their special days. Formal watches when worn also give an elegant corporate look. Adorn your wrist with beautiful and stylish watches and make heads turn at any meeting or event. Display your unique fashion sense be it a business meeting or at work. You will find a plethora of sleek and elegant formal watches for men to choose from. Select the perfect one from the many options that suits your needs and requirements.
Why choose Tevise Elegant?
The brand is committed to providing customers with excellent quality at the most reasonable prices.
Impressive and exclusive collection of watches to choose from for a classy and stylish look.
The brand is a well-recognized brand that makes watches using the latest technology.
A watch does more than just tell the time. Often, there are personal memories associated with it, making it an incredibly sentimental object. And, if taken care of properly, you can pass your watch on to future generations. Watches are built to last, and it's not difficult to properly take care of it to keep it in top shape:
1. Clean your watch as often as possible. Take a soft cloth and wipe down the band and the case to remove any dirt or dust. Soak the watch in soap and water every couple of months to loosen the dirt.
2. Get your watch serviced every two or threes years for a mechanical watch and three to four years for a quartz watch.
3. Avoid magnets. Some of you may not be aware that placing your watch close to a magnet can negatively affect the timekeeping of your watch.
4. Know your watch's water resistance. Most watches these days are built with some water resistance, but vintage watches tend to lose their waterproof-ness over time. If your watch is not water resistant, it can still handle small splashes of water, but it's best to avoid it. And, if your watch has a leather band, avoid getting your watch wet—water weakens the leather.
5. Take care of the crystal. This is quite obvious, but it's still important and worth mentioning. Take every precaution you can to prevent from banging the crystal of your watch against a wall or any other objects that may cause scratches.
6. Keep your watch box for storage. When not wearing your watch, it's best to keep it in the box it came in. By setting the watch on its side or on the crystal, there is always the possibility the watch could get scratched. The watch box is made to keep the watch safe and offers protection for the watch.
7. Avoid extended exposure to sunlight. Sunlight can fade the color on your watch. Also, heat can shorten the battery life, so it's best to prevent your watch from being placed in direct sunlight.
8. Avoid contact with chemicals, such as cleaning supplies. Also, it's best to avoid contact between your watch and perfume, especially if the watch has a leather band. Perfume can damage the band, weakening it and potentially causing it to tear. When spraying perfume or cologne, let it completely dry before placing the watch on your wrist.
9. Never open your watch by yourself. Leave this to a watchmaker. Opening your watch can expose it to dust, dirt, and other particles that can get inside the movement, so it's best to leave this up to a professional.
10. Read your watch manual. These steps will most likely apply to the care of every luxury watch. However, there are certain things that are specific to each watch and these tips will most likely be listed in the watch manual.