The perfect combination from watches and bracelets
Why wearing just one watch, when you can glam up your style if you know how to wear watch with bracelet. Not only people use timepieces to keep track of the time, but it also serves as a rich accessory. Apart from rings, and earrings, a luxury timepiece is a great thing to invest on. In fact, it is broadly accepted as statement making fashion item. Nowadays, both men and women prefer to wear watch as status symbol and fashion item. Here's the ultimate guide on how to wear luxury watch with chich bracelet to create the stylish and sophisticated look.
Type of Watch
Whatever the type of watch you choose to wear is going to decide which type of bracelet to sport on. The three improvements aspects you need to ponder over are:
Materials used to build the watch
Color of watch
Strap of the watch
If you want to wear a metal watch, you should make sure your bracelet has the same metal as the watch. When you accessorize this way, everything seems more connected, and effortless. On the contrary, if you wear a gold watch alongside with silver bracelet, you need to add an extra bracelet that has two tone of gold and silver to help blend the two accessories of different metals together.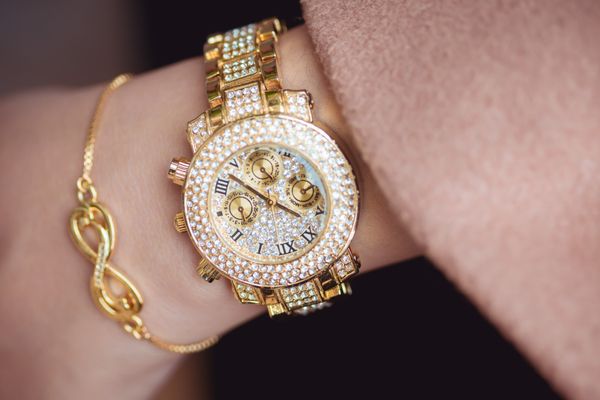 Blend the colour of the bracelet with the watch
While pairing bracelet with your watch, make sure the color of bracelet harmonize well with the watch. Find the matching metal and color for watch and bracelet set. It should result in somewhat effortless, and a natural look. After all, it's the small color detailing that creates the big impact. Also, there are many ways to blend watch and bracelet together.
You can use monochromatic color or varying tones of only one color to accentuate a vibrant and minimal look. These shades go well together in a strategic way. This is where strap of watch comes in handy. By using collection of watch straps in various colors, you can mix and match your watch and bracelet to create the total different look of the wrist. For a more dramatic look, pairing the contrast color of both accessories can be a visually stand out.

Amount of bracelets
Another most important concern is regarding amount of bracelets – that is how many bracelets should you wear at one time? Always look at the size of bracelet while wearing bracelets next to your watch. Avoid giving a busy wrist look. The bracelets shouldn't be the centre of attraction. Instead, wear these to complement the watch.
If the bracelet has volume, pairing one bracelet that accents and supplements with your watch should be just a perfect fit. If your bracelets are thin and minimal, you can stack many smaller-sized bracelets alongside your timepiece on the same wrist. There are no rules of the right number of bracelets. However, make certain that these multiple thin bracelets won't surpass the power of watch and watch should be the main attraction of your wrist.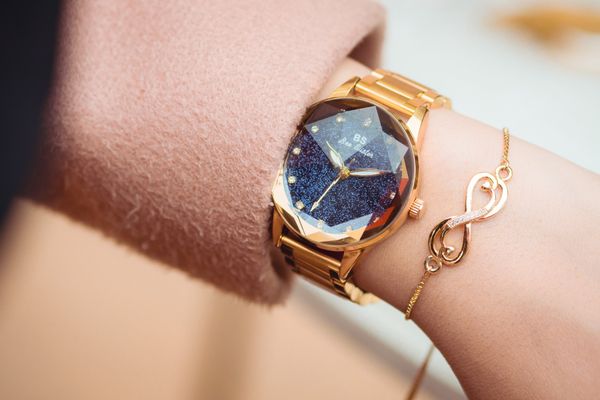 Choose a sparkling wristwatch
When you decide to pair up both accessories, remember that only one wrist accessory has to outshine. And that's the timepiece. You can't wear both flashy wrist accessories. Why so? This is because watch is the most functional and important wrist accessory, whereas bracelets are donned in order to amplify the whole attire which includes the watch.
When accessorizing, avoid the common mistake of putting together a flashy wristwatch to an equally good looking bracelet. This creates the confusion over which ornament is actually grabbing the spotlight. Sure, it diminishes the aesthetic value of your watch and your overall look.
Mix different metal hues and metal watch to create a cohesive look.
For feminine appeal, use beautiful charm bracelets with good looking timepieces
For edgy look, create a combo of thin beaded bracelets and leather with a dress watch.