BS Galaxy - The magic gift from the universe
The universe is always full of mysteries. The stories about stars, galaxies never fail to enchant people who are curious about science. According to the Bible, the universe was created from the hands of God in 6 days. At first, God only created light, at that time the light and darkness were distinguished, the light was daytime and the darkness was nighttime. The next day, he created water and sky. Everything was so empty that the third day God created the what is called land and sea, giving home to the flowers and fruits. Those are the very first steps of God's masterpiece.
After creating the fundamental things in the universe, God started to decorate his noble work. He created the sun, the moon, birds, animals, people.... And more notably, the planets and the stars - which hold a lot of unveiled mysteries. The universe has thousands of galaxies, and in every galaxy, there are countless beautiful stars. Over hundreds of thousands of years have passed and the universe gradually completed. There is no scientific work can cover the vastness of the universe. The mystery and fascinating universe has never ceased to amaze people. The earth has been hit by asteroid rain many times, until now what remain still arouse infinite curiosity among scientists. Like a mystery meteorite, the dark blue BS Galaxy captures the great beauty of the universe. A starry night filled with sparkling stars is perfectly depicted on the Galaxy watch dial, the artificial diamonds are delicately set to create a sparkling, fantastic sky.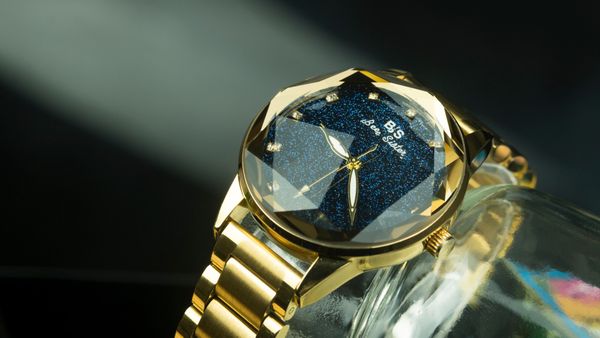 Being beautiful and mysterious like the vast universe, the luxurious and modern watch draws everyone's attention at the first sight. Strange and fascinating are words to describe the Galaxy watch. Immerse yourself in the luxurious and fashionable beauty of BS Galaxy and you will surely want to own it right away.
The watch is the perfect friend to keep you company with its luxurious, modern and fashionable look. Especially, classy gold color makes this timepiece look much more gorgeous than ever.