BS Crystal - Beyond expectation
Do you know?
In 2013, the brand Dove released a video and it quickly became one the most viral videos of all time. Only after 2 weeks, the video reached 70.4 million views and 3.8 million shares. What made this video so influential?
The video is about Dove's mission - to take care of women natural beauty, awake the true thought on beauty, help women over the perfectionism they are always obsessed with and become more confident with who they are. According to a research carried out by Dove, "When it comes to assess oneself, women tend to be the most serious critics. They are always obsessed with their appearance." Very few women consider themselves beautiful, they are always afraid of being "fat", "I look too old"... The research also points out that among 3200 women in 10 countries: only 2% of them think that they are beautiful, most describe themselves as "natural" (31%) or "average" (26%). These thought prevent them from enjoying themselves and looking on the bright side.
Therefore, in order to change the definition of beauty, the project "Dove Real Beauty Ketches" was carried out. Dove invited Gil Zamora, a professional sketch artist trained by FBI, to draw a woman's portrait according to their own descriptions. Gil and the women will not have a chance to see each other, he can only draw by questioning about eyes, nose and mouth,... Then he drew another picture but, this time, through the description of others about those women. And surprisingly, when put the two sketches close to each other, there is a clear difference in the woman's aura. Most women recognize that they are much happier and more beautiful in the eyes of others. And it was at this moment that they realized that they were too hard on themselves. At the end of the video, Gil asked a woman "Do you find yourself more beautiful than you think?" And of course the answer is "yes". The film of Dove delivered the message: "You are more beautiful than you think", women are more beautiful than they think.
The video was spread like wildfire, the message really touched people's heart. Many women shared that they were crying when watching this video, its content really hit people right in the feels. Very few commercials have been successful like this, Dove is truly a prestigious and admirable brand. That success must come from the understanding and the desire to bring natural beauty to women. No advertising campaign was born without commercial goal, but if the brand absolutely wanted to achieve its goals, it had to speak up, help customers to improve the problems of the community. Understanding the importance of that core value, Dove and many other brands have really succeeded on their way to gain the customers' trust. Enhancing the natural beauty, bringing confidence to all women is the purpose of AZ Watch.
Women have many ways to make themselves look better, but in order to become classy, modern and trendy, the must-have item is a valuable watch. Like a sparkling crystal, BS Crystal makes every women fall in love at first sight. BS Crystal is designed to take the natural beauty to a whole new level and raise women's confidence. Being one of the most unique designs, this luxurious timepiece is definitely the most useful fashion accessory you should have. Sophisticated design - Luxurious color - Modern feature, BS Crystal deserves to be the most popular product of AZ watch.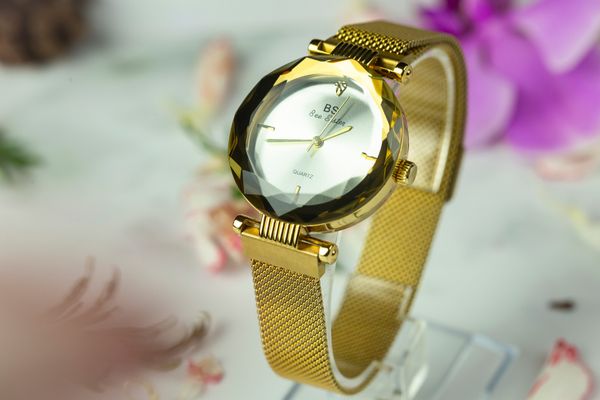 The crystal watch enchanted customers like the sweetness of first love. As one of the rare models of the Bee Sister, BS Crystal owns a unique design with a round 3D watch dial. A crystal always shines even in the evening. Along with the elegance from gold-plated strap, BS Crystal must be a precious gift from talented designers.
The compact and sleek design of the BS Twilight watch will be extremely suitable for active, young, energetic girls.
"Women are always more beautiful than they thought, and BS Crystal brings more confidence beyond their expectation."